Business Email and Technology Etiquette eBook
If you are new to the online business world or are just looking to hone your skills to rise about your competition — my
Business Email and Technology Etiquette eBook
covers the whole shebang. This eBook has been the primary reliable resource on Business Email Etiquette, updated annually for over a decade.
Everything You Need to Know About
Business Email Etiquette in One eBook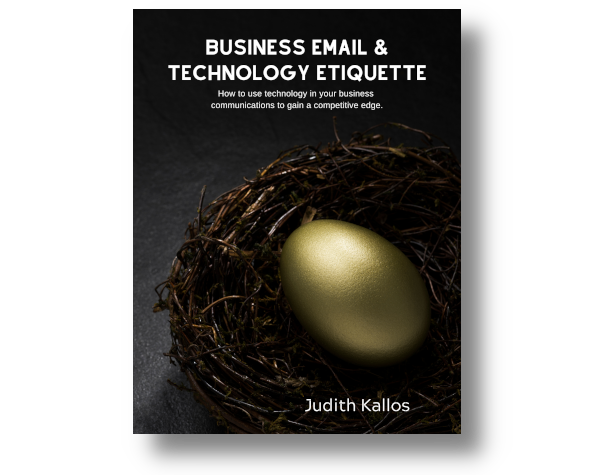 As an established Email Etiquette Expert and WordPress Consultant, and Online Business Coach, I have authored books and websites (BusinessEmailEtiquette.com, Net [email protected] Everyday Email Etiquette) on the topic of Email Etiquette. You can have my over 25 years of online Business Expertise (once only available to my clients) in this comprehensive Business Email and Technology Etiquette eBook.
Business Email and Technology Etiquette eBook Helps You Communicate Like a True Professional!
Only $4.95
This is a DOWNLOAD ONLY eBook — Non-Printable Adobe PDF Format.
Since 1995 I've been actively promoting the importance of Email Etiquette through my websites.
NetManners.com
covers everyday email etiquette, and this blog which exclusively covers
Business Email Etiquette
 has become the email etiquette standard. You are guaranteed that this eBook is backed by practical, real-world experience.
Reality-Based Information

"You won't find a more comprehensive collection
of smart, contemporary, and up-to-date Business
Email Etiquette information anywhere online!"
(Let alone one written by the author of the most
comprehensive Netiquette books and Email
Etiquette websites that have stood the test of time.)
You will not find the depth or wealth of reality-based information on this topic in any other publication. And you can't go wrong by making this one-time $4.95 investment in your success. That's less than a fancy cup of coffee.
No doubt there are free downloads available, but you can bet your bottom dollar they are not backed with the real practiced expertise, experience, and comprehensive common sense advice offered in this eBook.
Free advice "Tip" pages barely scratch the surface! Here's a quick and easy way to know everything about Business Email Etiquette and Proper Technology Use (and you can write the cost of this eBook off as a business expense) all in one read.
Be that Impressive Applicant and Get Hired
More "need to know" details, tips, and secrets so you can succeed and be perceived positively in your business email than you can find anywhere. Period. This eBook will allow you to rise above your perceived competitors and ooze the epitome of tech-savvy.
How To Use Business Email Etiquette To
Give A Professional Tech Savvy Perception
…In Less Than One Hour
A sampling of the topics covered:
What is involved in proper replies, and why are your responses critical to how you will be perceived.
Subject Field Use: The window into your Email to ensure it gets opened.
Formality & Addressing: Both of which can doom business partnerships if not appropriately handled.
To:, From:, Cc:, Bcc:, Reply to All: When to use and not to use.
Formatting: Rarely necessary in business communications and why.
Attachments: How to send attachments reflecting knowledge and understanding of the technology in which you are participating.
Email Configuration: How to make sure your settings don't make you look like a 6th grader.
Down-editing Your Email: Clarity in communications by down-editing leads to fewer misunderstandings and you being perceived as tech-savvy — learn how.
Perception Marketing: This is all about perception, folks — don't kid yourself.
Signature Files: Dos, don'ts, and considerations.
Email Organization Tips: Who can't use a few email organization gips? These suggestions make a world of difference.
Online Copyright Myths: Need to know info to protect your online collateral and not infringe on others. You will be surprised about what you don't know about this critical topic.
Why Your Business Needs an Email Policy: Even if you have only one or two helpers, find out why before it's too late.
Example Email Policy: It covers all the bases for anyone using technology on your behalf.
Texting Etiquette: Email etiquette applies regardless of the device used.
Blogging and Social Media networking.
And much more…
It's all here… 73 pages of What you need to know now
so that you will be perceived as the professional, legitimate
business person that contacts can trust.
This DOWNLOAD ONLY eBook (Non-Printable Adobe PDF Format) is the answer to many requests. From teachers, corporate trainers, business owners, managers, and employees to offer a concentrated "Business Only" guide on Email Etiquette and proper technology use.
Whether you are a business owner who works solo or has even just one employee, you need this eBook so that your email activities enhance and not hamper your business success, image, and potential! Remember, perception is the only reality online! Your Email, in many cases, is your first contact and chance to make a positive impression.
Need To Make That Oh-So-important First Impression?
You Bet You Do.
Don't doubt for a moment how rabidly competitive the online environment is. Combine that with the majority who disregard or underestimate the importance of email etiquette, and you have that important, highly desired competitive edge.
If you are starting a new enterprise, you need to be aware of and practice proper email etiquette and technology skills to have the best chance of success. Show you do not know how to use technology appropriately, and you leave the impression that you are uneducated or worse. A fly-by-night. So why take that risk?
Invest in Yourself
This little investment in your success will set you apart from competitors who do not take these matters seriously or have anemic email etiquette skills. One thing for sure, online, you need to rise above all the noise, and proper Technology Use and Business Email Etiquette will allow you to do just that.
Learn How To Use Technology and Business
Email Etiquette To WOW Your Contacts With Ease
Put your best foot forward when using technology. Show you understand the nuances of how proper technology use can lead to being perceived as professional and being technology savvy. For example, don't let your lack of email etiquette have potential customers hitting the delete button. That is an unnecessarily lost opportunity. Instead, get the latest info and leap ahead of your perceived competitors starting right now.
Business E-mail Etiquette eBook: $4.95
Online Success? Priceless.
I use PayPal but don't worry if you do not have a PayPal account.
Once you click the button, you'll have the option to use a debit or credit card.
My system will send your download link via email after your payment is validated
and will be valid for 24 hours.