Business Email — First Contact; First Impression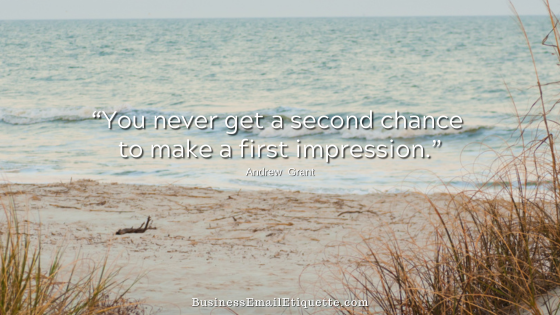 Your first contact with a potential new customer, employer, or partner will make a first impression on or off-line.
That impression, in many cases, will determine if a business relationship will be encouraged. The last thing you want to do is squander this one-time opportunity by being lazy, too informal, or in a rush.
Your first contact must be dressed to impress!
Email First Contact Tips
With first-contact emails, your approach and structure will make all the difference. You do not want to send an off-the-cuff, run-of-the-mill email that you would send to just anyone.
Apply these tips to avoid causing an unnecessary response for clarification or more information. You don't want to ping others' efficiency. That's called not getting off on the right foot.
Make it evident that you will not be a time-waster. Do this by providing the information both sides need out on the table to start a productive business relationship.
My Experience Confirms This
Being a one-woman show, I can speak from experience. I form an impression by that first contact email and the following subsequent handful. I can confidently determine whether a potential inquirer is one I can successfully work with.
When I receive an inquiry that does not include the basics of Business Email Etiquette, I know that person will consume more of my time, not just in email communications but throughout project tasks. My 28 years of experience prove that.
I don't know about you, but I hate being made inefficient through no fault of my own, mainly because this can also cause my customer service levels to suffer for my established clientele. Not good.
Paying attention to details and responding clearly is necessary for both sides and for me to do my job well. So, do I take that risk by working with those who show no business email etiquette? Would you?
Recruiters, HR, and Management Agree
Recruiters and management personnel have relayed to me this same dilemma. Candidates that do not take the necessary time and thought in their business email communications can be easily outperformed by those who do.
New contacts taking the time to think before clicking the send button will form a better first impression. In addition, it is a window into what can be expected moving forward.
Other consultants that I've discussed this with also relay the same frustration. Potential clients that do not communicate formally and in detail raise red flags.
They don't realize that although they are interested in hiring the consultant, the consultant is also deciding whether to work with them. Will this be a profitable client or a resource drain?
Communication Skills Matter
If you want to be considered, your email communication skills must always be on full display. Especially considering most jobs now require email skills.
Simple things like making sure that you spell names correctly. That you proofread for grammar and tone. That you think it is essential to integrate a respectful level of formality and professionalism by taking the time to type correctly structured complete sentences.
Imagine how you will stand heads and shoulders above others, making the very same inquiries. When you communicate as a professional, other professionals want to work with you.
Email is Your Calling Card
Every email you send is a building block for an opportunity. The opportunity to impress a potential new customer, employer, supplier, or vendor. An indication that you should be considered over your perceived competition.
"Work with me because I won't waste your time."
"Work with me because I am a professional."
Use every single email, even after that first contact, as a tool to encourage and build upon that all-so-important positive perception. Show that you respect others' time, and they will, in turn, respect yours.
Your first contact is that one-time shot at a great first impression. An impression that can open doors to nurturing ongoing successful business relationships.