Style and Tone Matter Even More During Hard Times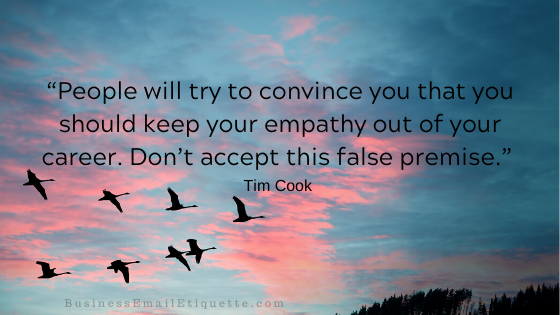 Especially now. A little story to share with you today…
Some believe it is business as usual. Maybe they are not impacted by the shutdowns or lack of income — and hope for the future.
Could be they are terse and lack empathy because they are panicked. They don't want to appear weak.
Either way, now more than ever we all have to be especially careful about how we choose to use email as a business communication tool. You can be part of the human race by showing concern and caring. Or you can plod on as if nothing is happening.
The choice is yours.
For years I've talked about intent and tone in emails. How important it is to be aware of and precise in your choice of verbiage and tone to relay intent.
Sadly, many still do not realize the power of the written word. Or the words they choose to leave out.
An Example to Learn From
As I often do, I share an experience I have had to make my point. In this case, the person I was communicating with was a stark example of either thinking it is business as usual — or not caring.
On Easter Sunday evening we got hit with a bunch of tornadoes. Two were F-5s. We were lucky — no damage to our home. But we had no power for 36 hours and it was sporadic for days after that. No power, no internet, no email.
This during a shutdown that is impacting our lives and our incomes. It was like the frosting on the cake.
A potential client sent an inquiry about their project through my consulting website. The inquiry didn't include the information asked for. Required fields were filled with "no comment" so the form would process.
I ask for this information so that I can know if I even can be of service. Not completing these fields tends to be a red flag.
I generally overlook those things knowing we are going to chat where I can ask questions. So I pointed him to my scheduling page on Good Friday. The next time I was able to get online would be late Tuesday afternoon.
There's an email from Good Friday:
Judith:

Your scheduling app has nothing available until next Thursday. I am ready to move sooner. Send me your bank information so I can submit my deposit.

John Doe
Followed by an email Monday morning:
Judith:

I didn't receive a response to my last email. I hope this is not an indication of your response time.

John Doe
In the news…
When I finally did get online, I had a slew of emails from those I work with all over the country inquiring if we were okay. They had heard about the tornadoes in my area and were concerned.
But not John. Maybe he didn't know. But to assume it was an indication of my response time from late Friday to Monday morning?
I responded to his emails with an apology for the delay in response, explained I had no power due to tornadoes and thanked him for his patience.
Judith:

Now you are booked all this week? I scheduled for next Tuesday but would prefer sooner. What is your ACH information to submit my deposit?

John Doe
No "hope you are okay." No, "I'm sorry to hear that" or "I understand." I was beginning to feel bullied. My gut was telling me to cancel, but I know how folks can seem terse via email and was giving him the benefit of the doubt.
Who knows, during our discovery session he can turn out to be a great guy, with a sense of humor. Someone I can see working with. It could happen.
Next Tuesday rolls around. On my schedule for 2p to discuss his project. I do these "discovery sessions" on Zoom to talk about the project with the client (and to make sure we are a good fit) — before accepting deposits.
Tuesday, 11:00 AM….
Judith:

I don't do Zoom. Call me at 2p instead.

John Doe
My Experience Kicks In
My schedule page states I use Zoom. As does my Modus Operandi provided upon our initial contact. There was no attention paid to my processes or the information provided. Not a good look.
After receiving that last email, I politely and respectfully declined the project. Even at a time when business is slow, I just cannot work with anyone who doesn't seem to respect my time, what I do and how I do it.
Yes, business is business and formality matters. But at some point it is also wise, prudent and important to acknowledge that human being on the other side. Especially when they share with you circumstances that anyone would struggle with.
Good People Rise to the Occasion
After weeks of communications where each side shared concerns, I guess I was spoiled. I've lost count of the emails over the past month that asked "How are you doing?" and "Are you safe and healthy?". Even from frequent readers of this site.
John stood out like a sore thumb.
He could have been a great guy. However, he didn't give me any indication of that. He may have been someone I would have enjoyed working with and helping to succeed. My gut told me otherwise.
While I certainly did not like walking away from income at this time, I'm sort of a stickler when it comes to how I am treated. Just think about how showing a little concern, or humanity, could have turned this around.
If there is a silver lining about this pandemic, it is how the good rise to the occasion and you find out who truly cares. Business is about people. Never forget that.
Have you ever turned down an opportunity because of how someone chose to communicate with you via email? How are you handling those who seem oblivious to what people are going through during the shutdown?
Share below….