Inefficient Email Communicators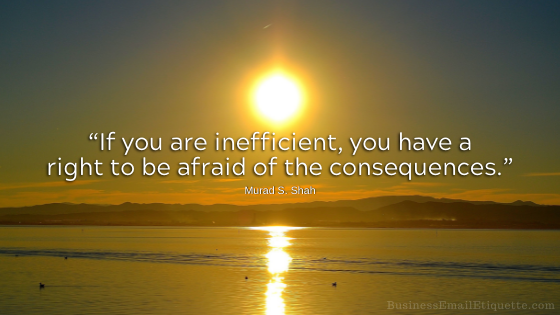 Have you communicated with emailers who ignore the questions you asked? Not only do they not answer your questions, their reply includes additional questions for you? Enough to drive you crazy, right?
It's Called Inefficiency
If these contacts were face-to-face, they would be required to listen to what you have to say. They would then respond to that information and your questions right then and there.
Bingo! You have the information you need to do business.
However, they can ignore your side of the "conversation" within an email conversation to continue the discussion in the direction they prefer. Or to reply to only what they find necessary or are prepared to answer.
In my experience, those who communicate in this manner tend not to be good customers, partners, or providers. When you cannot communicate with detail and clarity in your business communications, you reflect that you are not only inefficient, but you show that you are unable to be relied on.
Your business email requires your full and prompt attention to detail. That means we should not approach email with any less detail than any other mode of business communication.
Email Avoiders
You've probably run into an email avoider or two. (Or are you one?) Specific questions asked in the original email do not get answers in the subsequent reply. Instead, they are disregarded or ignored — I don't know which is worse, but it happens all the time.
Point out an issue of concern, and that too gets overlooked. But that doesn't stop the responder from writing about what they prefer to focus on. Selective replies are not conducive to building confidence in any long-term business relationship.
Is this the type of communicator you want to do business with? Probably not. Is this the type of communicator you want to be known as? I don't think so.
Folks who communicate in this manner make me inefficient. They also cause me more work by having to restate questions or ask for clarification. And, I hate being made inefficient. Don't you?
The saying that the "customer is always right" does not give tacit permission to ignore requests or sidestep issues. The same goes for the other side. Both sides of the business relationship have a responsibility to communicate in a way that makes doing business with you an easy process.
Especially if the topic goes to the core of doing business with you. Do you want to be that customer/coworker/provider known to be challenging to communicate with? That can be the kiss of death for your business.
Being a Good Business Partner
A big part of being a good business partner is demonstrating respect for others' time. This requires reviewing each email and responding point by point. However, it does not mean ignoring what you do not prioritize or are not ready to discuss.
If you are sent an email that you do not yet have the answers for or are unable to respond to, reply and state as much. The last thing you want to do is be a one-way communicator.
When I email individuals who communicate in this manner, I can count on the fact that they are probably disorganized in everything else that they do. Decades of emailing for business have proven this point of view repeatedly.
Back to the inefficiency thing. In my case, I have chosen not to encourage business relationships based on initial communications that reflect the inability to email promptly and with the required details.
There is no reason not to be an organized and efficient business email communicator. Unless, of course, you are lazy and disorganized.
This is business, after all.
How you respond to emails will be a window into what it will be like to do business with you. Inefficiency in your email communications does not bode well for the relationship-building process. A process that is so critical to successful business partnerships.
If you want to be taken seriously, be clear about what you need out of the conversation. For example, "I need your response to the following…".
When you reply to emails, check that your response addresses the concerns and questions of those you are responding to—point by point. Don't leave them wondering. Instead, strive to impress by being the epitome of efficiency.
Do not underestimate the importance of taking the time and making an effort to communicate like a detail-orientated professional. Those efforts will reflect that you are, in fact, a business partner that we can trust.