Good Communications and Black Coffee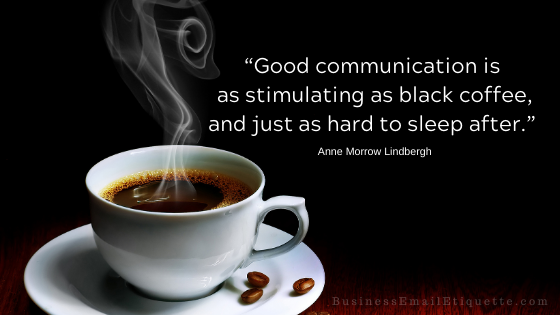 I receive emails every day from various business onliners. Some are more polished than others. And that's okay.
Part of my consulting modus operandi is to be their muse and to coach them to embraced the needed skills to succeed. Work with me and I'll provide tips and recommendations about how you use technology to communicate as well.
Professionalism & Communication
When it comes to communicating with the written word, that has absolutely nothing to do with online or email specifically. That has to do with education and effort.
We all went through grade school where we learned our reading and writing basics. This continued through high school. Some went on to college; others didn't.
However, regardless of your level of education the ability to communicate with the written word is a skill that, like very few others, can help you to reach your goals and strive for your dreams. In particular when it comes to your career.
Whether you work for someone else, are self-employed or seeking employment, if you do not make the effort to communicate as the professional you want to be perceived as, you can easily be out performed.
Those who do communicate properly will be viewed more positively than you. This is even more true with email as it is all about perception.
Email to Impress
Do you want to form partnerships or spend your hard earned dollars with those who fail to spell-check or choose their words carefully? Do you trust emails that include sentences that are not capitalized?
Then there are those that reflect no effort or desire to communicate clearly and skillfully. This causes unnecessary emails and time delays to have to clarify. Creating inefficiency is not good for business.
It simply wouldn't be a wise business decision to do chose to do business with anyone who is unable or unwilling to communicate as though they made it out of grade school. What else may they not think is important?
Communication Skills = Success
Ask yourself, do you want use technology to succeed in online business? Then you need to be able to take advantage of email as the incredible communication tool that it is. You want to create emails that exude confidence and trust as a credible business professional.
Talk to anyone who writes for a living. Even they will say they are always improving upon their writing skills. Business success goes to those who are willing to continually, constantly and for perpetuity embrace the necessary skills.
So pick up some good books on the topic. Then make a pot of coffee, read, learn and write your way to success. Here are a handful of my favs…